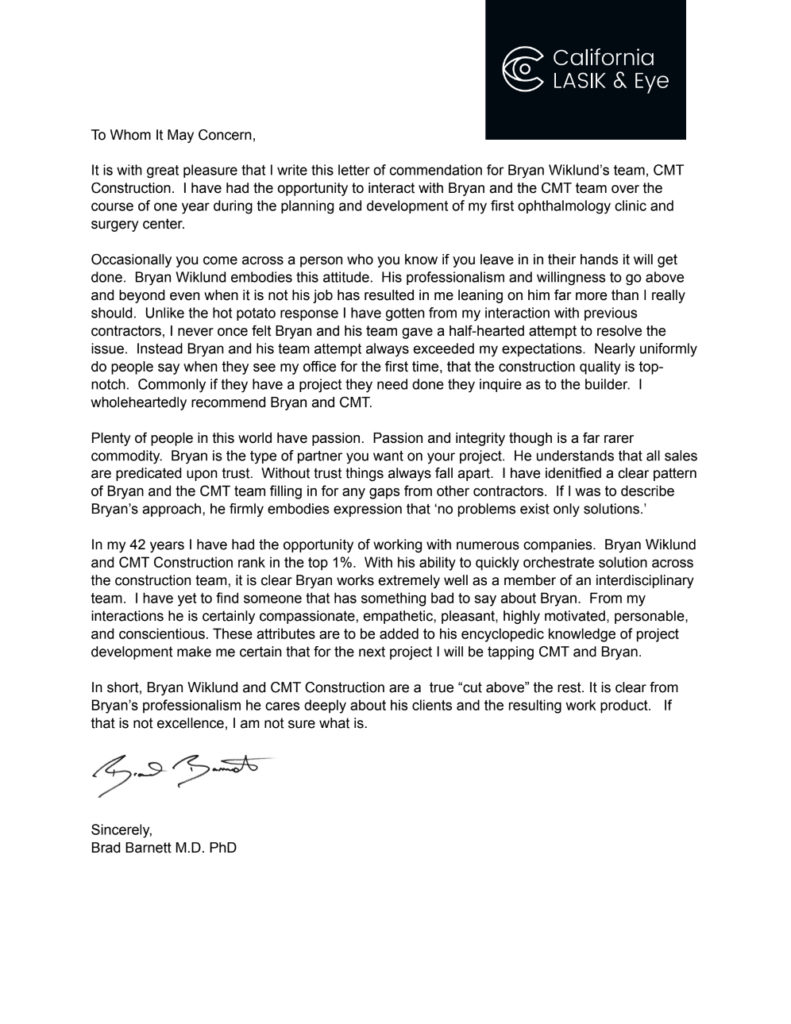 Cornish & Carey Commercial Newmark Knight Frank recommends CMT Construction:
As a commercial real estate agent who specializes in Healthcare Office properties, it is my pleasure to recommend Bryan Wiklund and CMT Construction to all my clients.
I have worked with Bryan for more than 7 years on construction projects of all types and sizes. I can specifically recommend Bryan for the following reasons:
Quality of work performed.   The quality of construction performed by Bryan and his group is consistently very high. Bryan selects subcontractors who understand the nature of the business/practice for which he is working, and appropriate materials (that withstand the use/needs of the client) are always used. The finished product meets specifications, and rarely needs improvement or modification.
Project management and coordination. Bryan consistently completes projects within the agreed upon time schedules. He remains closely involved in all areas of the project, and provides a strong attention to details. He is very organized, and communicates well with his group and his customers.
Value. In comparison to other project bidders, Bryan's cost estimates are consistently low. He continuously provides the best value for the price. His estimates are accurate, detailed, and actual costs routinely stay within the estimated amounts.
Responsiveness and customer service. Bryan is extremely committed to the satisfaction of his clients. In addition to offering excellent project updates, he provides a very high level of service, and often goes out of his way to assist his customers with actions outside of a contractor's traditional scope of work.
In closing, I am always happy to recommend Bryan to my clients.  Many of my clients have had poor experiences with other contractors, but they are always happy with the results that Bryan achieves, and they are very happy to recommend him to others as well! If you have any questions about my experience with Bryan, please feel free to contact me at (916) 367-7000.
---
Petrovich Development Company recommends CMT Construction:
We have had the pleasure to work with CMT Construction over the past ten years through a variety of new and existing construction and tenant improvement projects. They have worked on both our commercial and residential projects. Bryan has demonstrated a level professionalism and expertise on each and every project. He and his team have always completed our projects on time and on budget.  The level of commitment, expertise and collaboration exhibited by Bryan and his team on each and every project has made it a pleasurable working experience and has provided us with quality work. CMT Construction is a top notch builder and Bryan possesses the highest integrity and strong work ethic and is always striving to bring the client he is working for the highest level of customer service in the industry. I believe that if you give Bryan the opportunity to quote and build your next project you won't be disappointed. I would highly recommend CMT Construction for your next project as well as future projects.
Lisa Montagnino
Vice President of Property Management
(916) 442-4600